Behavioural studies
Gower Bird Hospital's Closed Circuit Television System (CCTV).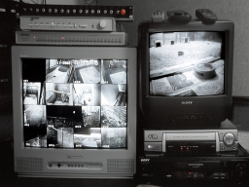 The use of CCTV also gives an excellent opportunity to observe behaviour.
Footage is recorded and studied, leading to great improvements in aviary design and the mental well being of our patients.
Students from Swansea University use the facilities at Gower Bird Hospital to carry out research projects. The welfare of our patients is paramount. No projects are carried out to induce stress – we record normal activities at the Hospital and this behaviour is studied.
For example, hand reared blackbirds were observed in one of our aviaries and it was noted through the CCTV that staff walking past the aviaries would frighten the birds. The birds would stop whatever they were doing and take cover, remaining in hiding for several minutes. While this was a good fear response, it meant the birds weren't feeding, socialising and exercising as much as they should. It was impossible to reduce the human traffic passing, so fine green netting (used for wind breaks in gardens) was fitted over the mesh walls of the aviaries and shrubs allowed to grow up the outside. This resulted in a much more secluded space inside the aviary and the birds were much less affected by human traffic.
Another important discovery was the amount of squabbling over high perches. At the time of recording only one or two of the natural branch perches were high in the aviary, resulting in the pecking order of the birds being a constant source of aggression. Simply providing more high perches for roosting restored equilibrium and reduced stress considerably.
All this may sound obvious, but without the CCTV, it would not have been observed and the improvements wouldn't have been made.
During 2001 we were able to fit a camera into a privacy area in the treatment unit and for the first time we filmed a "flat" gull's recovery. A flat gull is suffering from food poisoning and appears paralysed – no movement in their legs, sometimes unable to lift their heads.
The normal procedure was filmed:
Initially the gull is tube fed with body fluid replacement. As the bird gets a little stronger, even though it can't stand, we put it into a shallow bath of warm water for a few minutes where it will drink for itself, eliminating the stress of being tube fed. This also helps keep the feathers underneath clean as there is usually a nasty build up of green droppings. This goes on for a few days.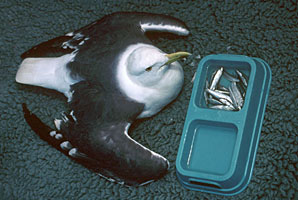 Eventually the gull starts to stand and eat and when strong enough to walk is transferred to an outside rehabilitation pool to gain strength and condition before release.
This has always been a successful treatment, but because the bird is only observed when having fluids we thought it would be worth filming its recovery. Our student Matt started the task of watching video tapes of a mostly immobile gull for 72 hours.
The bird obviously couldn't tuck its head under its wing to sleep because of the temporary paralysis. We saw its eyes close, its head nod, its beak drop to the floor and then it would wake with a start. This carried on until its condition had improved enough to be able to turn its head into its wing.
The gull did not get any quality sleep for more than 48 hours!
We already provided rolled up towels for very sick flat gulls to rest their beaks on as they obviously needed it, but didn't do this for birds that could hold their heads up as it didn't seem necessary. Thanks to Matt's research, all flat gulls now get pillows. This reduces stress, aids recovery and makes convalescence a lot more comfortable.